13th Summer School on Fracture Mechanics,
Trzebnica, September 3–6, 2013
Programme Committee
Prof. Wacław Kasprzak – co-chairman, Wroclaw University of Technology, Poland
Prof. Volodymyr Panasyuk – co-chairman, Karpenko Physico-Mechanical Institute, Lviv, Ukraine
Dr. hab. Jerzy Kaleta – vice-chairman, Wrocław University of Technology, Poland
Prof. Hryhoriy Nykyforchyn – vice-chairman, Karpenko Physico-Mechanical Institute, Lviv, Ukraine
Prof. Ihor Dmytrakh – Karpenko Physico-Mechanical Institute, Lviv, Ukraine
Prof. Leonid Lobanov – E.O. Paton Electric Welding Institute, Kiev, Ukraine
Prof. Marek Rybaczuk – Wroclaw University of Technology, Poland
Prof. L. Tóth – Bay Zoltan Foundation, Hungary
Presented Papers
(All presentations in one huge – 76M – file: 13th Summer School on Fracture Mechanics [1].)
Poster sessions
There will be place provided for presenting (unlimited number) of posters devoted to fatigue, fracture mechanics, hydrogen storage (in wild sense).
Organizing Committee
Prof. Jerzy Kaleta
Dr. Wojciech Myszka
School Venue:
Trzebnica Hotel is the first so comfortable object located in Trzebnica, in the immediate vicinity of former spring complex.
As same as the rich spa history of the town alternates with its contemporary, recreational character, this way according to the intention of the owners, the hotel creates luxury space for the rest, proposing high-tech solutions valued by business people.
Tastefully arranged interiors, gardens of green outside, appreciated in the local area kitchen, professionally equipped conference rooms and impressive banquet hall – all these create a beautiful background for family trips, business meetings or solemn receptions and banquets.
Those who value active recreation will appreciate the nearby Beech Forest being a source of clean and fresh air, what in combination with extensive areas of famous Trzebnica's orchards creates excellent circumstances for practising all forms of recreation.
The hotel is situated only 30 minutes drive from the capital of Lower Silesia, what makes it very attractive for tourists wishing to visit Wroclaw, participants of various congresses and conferences, as well as for those, who are travelling for business and looking for a calm place for rest after a day in the city's tumult.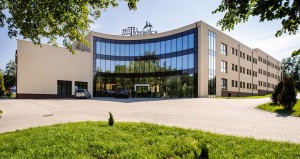 Address:
Leśna st. 2
55-100 Trzebnica
http://www.hoteltrzebnica.pl/index.php/en
Registration
Preferably via e-mail
Registration Fee
1000 zlotys (about 235 Euro)
Contact
Wroclaw University of Technology
Institute of Materials Science and Applied Mechanics
Wybrzeże Wyspiańskiego 27
50-370 Wrocław, POLAND
Tel.: (0048)713202790, (0048)713202766
Fax: (0048)713211235
Dr. Wojciech Myszka
e-mail: wojciech.myszka@pwr.wroc.pl
Prof. Jerzy Kaleta
e-mail: jerzy.kaleta@pwr.wroc.pl
[17]

Probabilistic and statistical approaches of integrity and residual lifetime assessment of structural elements

,

Chapter in 13th Summer School on Fracture Mechanics

,

Departament of Mechanics, Materials Science and Engineering, Wrocław University of Technology

, 2014. [bibtex] [pdf]
[16]

Everyday fracture mechanics, and generation problems. Summer schools are needed!

,

Chapter in 13th Summer School on Fracture Mechanics

,

Departament of Mechanics, Materials Science and Engineering, Wrocław University of Technology

, 2014. [bibtex] [pdf]
[15]

Estimation of the technical state of exploited heat resistant steels using the fracture mechanic characteristics and fractography features of degradation

,

Chapter in 13th Summer School on Fracture Mechanics

,

Departament of Mechanics, Materials Science and Engineering, Wrocław University of Technology

, 2014. [bibtex] [pdf]
[14]

BIEM modeling and numerical simulation of 3D problems for an composite structures with crack-like damages

,

Chapter in 13th Summer School on Fracture Mechanics

,

Departament of Mechanics, Materials Science and Engineering, Wrocław University of Technology

, 2014. [bibtex] [pdf]
[13]

Modelling of fracture accumulation in high pressure composite vessel with use of fractal geometry

,

Chapter in 13th Summer School on Fracture Mechanics

,

Departament of Mechanics, Materials Science and Engineering, Wrocław University of Technology

, 2014. [bibtex] [pdf]
[12]

History, progress and prospects of Polish-Ukrainian-German Summer Schools on Fracture Mechanics and Structural Integrity

,

Chapter in 13th Summer School on Fracture Mechanics

,

Departament of Mechanics, Materials Science and Engineering, Wrocław University of Technology

, 2014. [bibtex] [pdf]
[11]

Role of hydrogen in service degradation of the physical and mechanical properties of structural steels

,

Chapter in 13th Summer School on Fracture Mechanics

,

Departament of Mechanics, Materials Science and Engineering, Wrocław University of Technology

, 2014. [bibtex] [pdf]
[10]

Diagnostic of welded structures using laser interferometry methods

,

Chapter in 13th Summer School on Fracture Mechanics

,

Departament of Mechanics, Materials Science and Engineering, Wrocław University of Technology

, 2014. [bibtex] [pdf]
[9]

Kinetic fatigue fracture diagrams based on cracks propagations – comparing experimental results, obtained for different kinds of steels

,

Chapter in 13th Summer School on Fracture Mechanics

,

Departament of Mechanics, Materials Science and Engineering, Wrocław University of Technology

, 2014. [bibtex] [pdf]
[8]

Application of smart materials in energy recovery. Energy harvesting

,

Chapter in 13th Summer School on Fracture Mechanics

,

Departament of Mechanics, Materials Science and Engineering, Wrocław University of Technology

, 2014. [bibtex] [pdf]
[7]

Simulation problems of crack nucleation and propagation in hydrogen-containing metal

,

Chapter in 13th Summer School on Fracture Mechanics

,

Departament of Mechanics, Materials Science and Engineering, Wrocław University of Technology

, 2014. [bibtex] [pdf]
[6]

Application of waste hydrogen in energy production. Case study on base of the implementation of the method in selected chemical plant in Poland

,

Chapter in 13th Summer School on Fracture Mechanics

,

Departament of Mechanics, Materials Science and Engineering, Wrocław University of Technology

, 2014. [bibtex] [pdf]
[5]

Advanced methods for reliability and fracture risk assessment of structural elements with crack-like defects

,

Chapter in 13th Summer School on Fracture Mechanics

,

Departament of Mechanics, Materials Science and Engineering, Wrocław University of Technology

, 2014. [bibtex] [pdf]
[4]

Fracture mechanics of metallic biomaterials

,

Chapter in 13th Summer School on Fracture Mechanics

,

Departament of Mechanics, Materials Science and Engineering, Wrocław University of Technology

, 2014. [bibtex] [pdf]
[3]

Optical fiber based monitoring system for high pressure composite vessels for hydrogen storage

,

Chapter in 13th Summer School on Fracture Mechanics

,

Departament of Mechanics, Materials Science and Engineering, Wrocław University of Technology

, 2014. [bibtex] [pdf]
[2]

Storage of high pressure hydrogen as a fuel for vehicles

,

Chapter in 13th Summer School on Fracture Mechanics

,

Departament of Mechanics, Materials Science and Engineering, Wrocław University of Technology

, 2014. [bibtex] [pdf]
[1]

13th Summer School on Fracture Mechanics

,

Department of Mechanics, Materials Science and Engineering, Wrocław University of Technology

, 2013. [bibtex] [pdf]